The

Circassians

: A Handbook
Published by
RoutledgeCurzon
(ISBN 0 7007 0644 5) (part of the
Taylor & Francis Group
)
In the Series
Caucasus World
Series editor: Nicholas
Awde
.
Distributed in the USA by
Routledge
/New York
Also co-published in the USA by
Palgrave
Macmillan
, the academic wing of St. Martin's Press
(ISBN: 0312239947)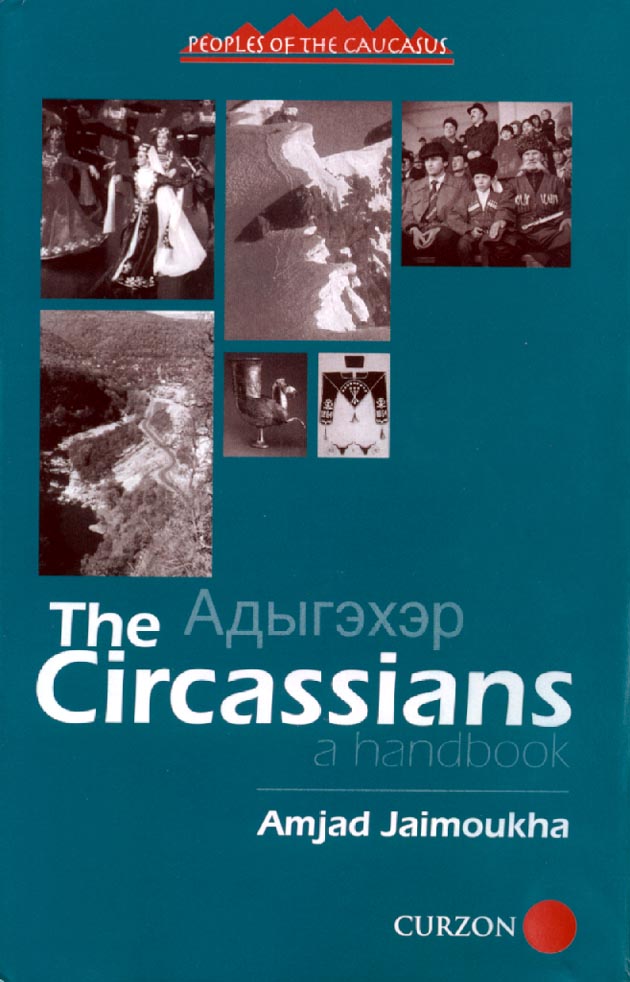 Reviews

At least 14 reviews of the book in the English language have been published:
'This exceptionally comprehensive handbook maintains throughout the highest scholarly rigor ... a fundamental reference...' Choice Magazine

, USA

.

[Also read comments on Amazon.com, Amazon.fr, or Barnes & Noble]
'Ignorance and misinformation about this group is thus still common even amongst specialists in conflict and minority studies. The

Circassians

makes a valuable contribution by providing a base of solid and reliable data about this group,

and also

by explicitly presenting the minority perspective… The loss of nationhood at the hands of more powerful

neighbours

, and its salvation through fortitude and resistance, are recurrent motifs; the author's own rather

romanticised

commentary in the text is evidence of the power and unquestioned historicity of the national idea in this part of the world… Only a few of the world's many ethnic minorities have managed to capture the Western imagination. Scores of others face the multiple ills of demographic decline

and

cultural desuetude without making headlines. The 'Peoples of the Caucasus and the Black Sea' series, of which this book forms a part, provides an invaluable window on a region as remarkable for its cultural diversity as for the lack of

specialised

knowledge about it. It is, moreover, handsome and well-produced, with many useful maps, illustrations and photographs.' Dr. Laurence

Broers [well-known expert on the South Caucasus]

in The Times Literary Supplement, no. 5176, 14 June 2002.
'This work admirably fulfils its purpose as a comprehensive handbook. An extremely useful compilation of sources, information, and data, it provides an overview of the history, society, and customs of the

Circassians

' – Dr. Seteney K. Shami [Director of the Program on the Middle East and North Africa and on Eurasia at the Social Science Research Council, New York] in Ethnos,

Journal of Anthropology (

Routledge

,

UK

),

vol. 68, no. 1, March 2003, pp 137-40.
'A senior researcher [Assistant President] at the Royal Scientific Society in Jordan, Jaimoukha introduces the indigenous people of the Caucasus who live north the Caucasus Range. Choosing among the various definitions of who to include among the Circassian people, he chooses the most restrictive, those many tribes who speak mutually intelligible dialects of

Adigabze

, a non-Indo-European language. Land and people, the

diaspora

, customs and traditions, music and dance, and literature are among the topics.'

Annotation c. Book News, Inc.,

Portland

,

OR

(booknews.com).

[See also Barnes & Noble , or Powell's Books]
'The first modern account of the

Circassians

... the book presents reliable, detailed and up-to-date information on the Circassian nation which will undoubtedly be welcomed by a very broad readership, including of course the numerous Caucasian

diaspora

communities.' Prof. Brian George Hewitt [Professor of Caucasian Languages, the School of Oriental and African Studies, University of London] in The Journal of the Royal Asiatic Society, vol. XII, part 1, April 2002, pp 81-3. [Full review in pdf format is available below. Read also his Amazon.com review]
Prof. Ernest Tucker [Professor of History, United States Naval Academy] in The Middle East Studies Association Bulletin (USA), vol. 37, no. 2, winter 2003, pp 251-2.
Dr.

Vjacheslav Chirikba

, in The Bulletin of the School of Oriental and African Studies, vol. 65, no. 1, February 2002, pp 169-70. [Full review of book is available in pdf format below]


Prof. Uli Schamiloglu

[Professor of Languages and Cultures of Asia, University of Wisconsin-Madison] in Europe-Asia Studies (Institute of Central and East European Studies, University of Glasgow, Scotland ), vol. 54, no. 6, 1 September 2002, pp 1003-4. [1800 words. Full review is available in pdf format below]
Prof. Henry R. Huttenbach [Professor of History at City College of the City University of New York

and Director of the Center for the Study of Ethnopolitics and Ethnonationalism (NY)],

'Book Review: The Circassians: A Handbook, by Amjad Jaimoukha', in

Canadian-American Slavic Studies -

Revue Canadienne-Americaine d'Etudes Slaves, vol. 37, no. 4, October 2003, p486.
Slavic and East European Journal (

USA

).

Indigenous Nations Studies Journal (

University

of

Kansas

).

The American Historical Review.
The Royal Court Research Department (

Jordan

).

Faits & Projects Magazine (Paris).
Review (by Zhenet Yiwan) of The Circassians in Circassian in Radio Free Europe / Radio Liberty (RFE/RL) North Caucasus (Circassian) Service (May 2002) (Real Audio file)


Interview with Amjad Jaimoukha in Circassian broadcast by Radio Free Europe / Radio Liberty (RFE/RL) North Caucasus (Circassian) Service
(Real Audio file; interview conducted by Zhenet Yiwan)
Interview with Amjad Jaimoukha (in Circassian) on RFE/RL North Caucasus (Circassian) Service

Citations

This book is cited by dozens of books, theses, dissertations, research papers, and articles.
Contents
Foreword
Acknowledgements
Maps

Introduction

· People and land
· History: earliest to 18th century
· History: the Russian-Circassian War to the collapse of the Soviet Union
· Politics and current affairs
· The Diaspora
· Economy
· Religion and beliefs
· Social structure
· Customs and traditions
· Folklore
· Arts, crafts, and architecture
· Music and dance
· Language and linguistic policy
· Literature
· Theatre, media, and film
Afterword
Further Reading
· Proverbs and sayings
· Chronology
· Appendices
· The Circassian Pantheon and caste system
· Latinized Kabardian alphabet
· Circassian lexicography
· Bibliographies and journals

Bibliography
Notes
Index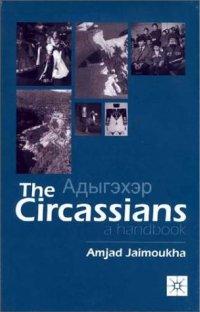 Palgrave's edition of the book